The family is the most important thing. For an individual but also as the smallest cell of society. Strong cohesion within the family is the basic prerequisite for a healthy and happy life. A life pleasing to God and an upbringing according to His commandments leads to strong families. That is why prayers are so important, especially for a family. Prayer for the family will help to keep your relationships strong and hold your family together. It is powerful and it does make a difference in families' lives. In this blog post, we have collected some prayers for your family which may be helpful to you.
What is prayer?
Prayer is the act of communicating with God. Which is according to the Bible the Heavenly Father, the Holy Spirit, or Jesus. Prayers are often structured around words like "please" or "thank you". The response to prayers may not always come in the form of what we want but through other means that give us peace and joy. Prayer helps people to feel close to the higher power of God and give thanks for their many gifts.
Why do we pray?
We pray because we know there's somebody who loves us more than anything else no matter what happens. Even when we feel lost or abandoned. Praying is one of the most powerful acts of the human experience and life. Prayers are powerful because they cause us to use the Power of God, which is far more powerful than anything we can do on our own.
Praying is about trusting in God's goodness and power to protect us, which is what all of us want more than anything else. It also helps the person praying know that they aren't alone or without hope. Prayer provides a sense of calmness and peace which can help people overcome great obstacles like addiction, illness, or grief. It can reduce anxiety and depression because it reminds us that we are not alone or forgotten by God. Finally, it gives a sense of hope which has been found to be related to mental and physical health benefits.
How to pray
It is best to begin the prayer with praise to God. After that, we should thank God and express our gratitude. The next step is to ask for forgiveness when we fail to keep God's commandments and commit sins. Then pray for others and for yourself. For your whole family, but also for other people like neighbors, lonely or sick people, or priests. Also, speak blessings aloud to these people. One will reap whatever you have sowed.
Why is it important to pray for family?
The old saying says that "A family that prays together sticks together". Praying for family members is a very important thing because it can help the family to stay close and also strengthen their faith. Prayer is something that should be done by everyone in a family so that they come into unity as one body of believers and fulfill God's call on their lives.
For more information about the meaning and importance of prayer, see this article.
When is the best time to pray?
A good time praying with the family is before a meal. This is a time of blessing, giving thanks and gratitude for the food which has been prepared. It can be done before the meal and at the end of it.
Prayer should also take place during family activities like when you are playing games together. Such as board games or card games. Before and after meals, on vacations, at bedtime, and in sickness. To pray it is important to get everyone involved so that the family can pray together. Prayer becomes a part of their routine and they will be more likely to remember it when things are tough.
It's also good for them to do it even if someone else isn't able or doesn't want to participate. Because then there is still prayer going on in the background. This helps strengthen the household spiritually no matter who takes part. And the presence of the Holy Spirit is hereby secured.
Finally, it can also be a time of closing the day with prayers and asking for forgiveness and blessing from God over the events that have happened.
The Benefits of praying
The benefits of prayer are many - here's just some!
Prayer strengthens our connection to God. Praying is a way of strengthening the spiritual bond between us and him. Prayer helps relieve stress because it teaches us how to let go, relax, and focus on what matters most in life. It can help provide comfort during difficult times by giving meaning to our suffering while helping us see that we're not alone. And giving hope for better days ahead with a new purpose and understanding of why things happen as they do. It also brings peace amidst all the trials of this world when there feels like nothing else could possibly make sense or be helpful anymore.
Prayer is one of the most important things we can do in our lives. When we apply these principles internally - praying for others - they also help make life easier on those around us too. But don't get frustrated if your prayers aren't answered quickly.
But perhaps the best benefit is feeling closer to one another and to god's love.
Prayer for Family
"Dear God, thank you so much that we can come together as one family and pray to You every day. We appreciate the many blessings of our lives, including health, love, work, and happiness. All things which are given by Your grace. Thank You for this time in which I am able to speak these words: it is precious! Give us an understanding of how best to spend our days on earth in order to praise you and to glorify your Holy Name. I ask this in the name of Jesus Christ, our Lord, and Savior."
Prayer for all families
"Father, God, we come before You today to ask for protection over our families. Let no trouble fall on them today. Allow no evil to influence their hearts. Cover them with the precious blood of Christ. Guard their hearts so that they may only display love instead of hate, anger, or bitterness. We all ask the Lord to give glory to our families and give them peace of mind. Amen."
Prayer of thanksgiving
"Lord, thank you for the gift of family. Thank you that we are all loved and forgiven by you through Jesus Christ our Savior. Forgive me when I fail to show love to my family members or act selfishly in any way. Help us as a group to grow closer together spiritually. Please give us strength during the hard times and peace always! In Jesus' name, we pray, Amen."
Prayer for Family Protection
"Dear Heavenly Father. I am asking you today to please bless our little household with your love and protection. Keep us aware of your presence among us always. Help us with our many challenges. And even more, I am asking that you watch over my family during the whole day. Forgive us for the things we might have done wrong or failed in. But give us your hope and guidance so that together with love, kindness, patience, forgiveness, understanding, and unity we can grow closer into a strong family. Mama, Dad, and the kids - we love you so much! In Jesus' name. Amen."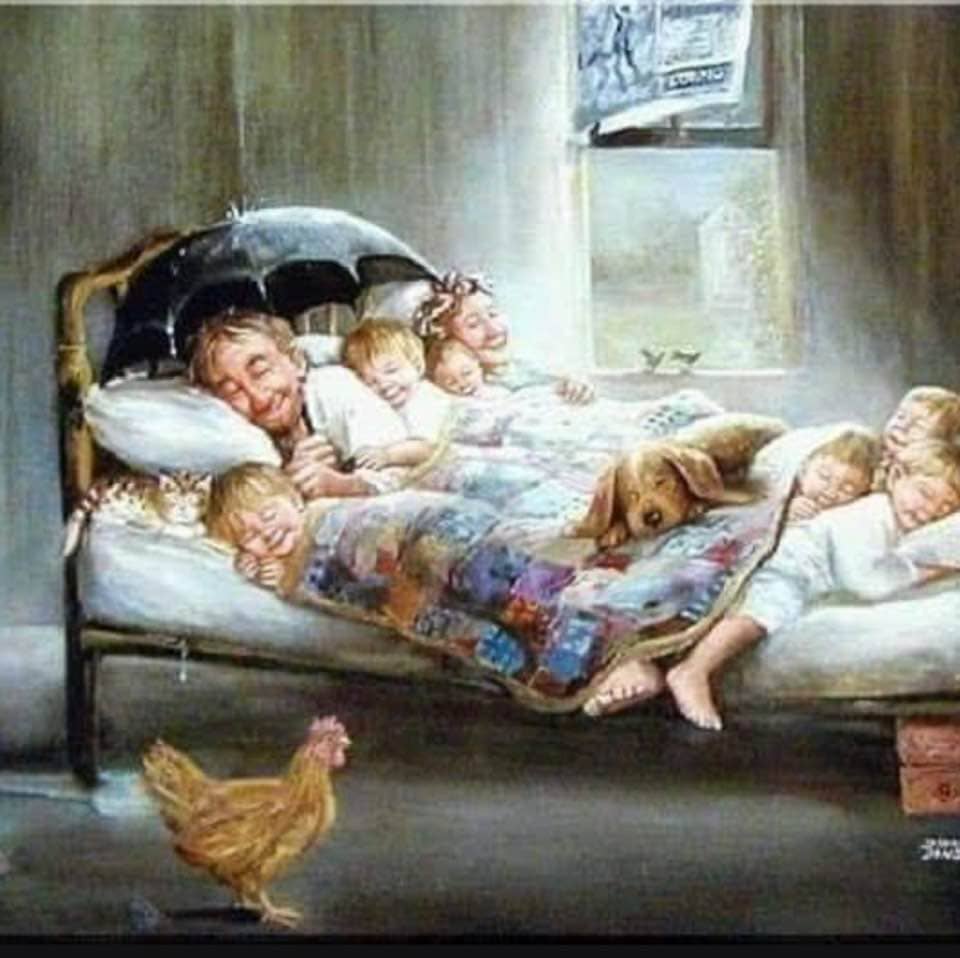 Prayer for Family Guidance
"Please Lord give me strength each day to take care of myself so I don't get sick or overtired when I'm caring for the rest of my family. Please watch over them too during this day and protect them from any harm. Help me to be a good example for my children. Show me and them the way that will lead us all closer together as one family and help us to live in peace. Amen."
"Father, we pray for our family. We are overwhelmed with the challenges of life and thank you for your strength to get through them. Keep us united so that in sickness and health, we may stay strong together."
Short Prayers for Family Blessings
"Lord, please bless the members of this family with your love and care so that they can grow closer together."
"Lord teach us to pray, to Love God, and perfect us in our virtues. Especially in Love."
"God bless our house and the family that dwells within it."
"Lord Jesus Christ who said, "My peace I leave with you," grant me unshakeable confidence through your Holy Spirit's help. Amen."
Prayer for Happy Marriage
"Dear Father in heaven and good Lord Jesus Christ, help me to love my wife (husband) as You do and help me to cherish the time with her and my kids. Amen."
"Heavenly Father, thank You for my marriage. Please help my spouse and I grow together. Deepen our bonds as we face life's challenges. Harmonize our misunderstandings and show us the good in one another. Guide our hearts to see our marriage as a precious gift, a reflection of Your love. Amen."
Prayer for Children
"Almighty God, Heavenly Father, gives us calm strength and patient wisdom. We may teach them to love whatever is just and true and good and good, following the example of our Savior Jesus Christ. Amen."
Prayer for a Child
"I love my family and pray for my Mama who is always trying her best. She loves me so much and she wants what's best for me. But sometimes she doesn't know how to handle certain stressful situations like when we were growing up. I want her to have peace and feel safe from all harm caused by anyone else. Because she deserves it just as much as anyone does. And most importantly I ask God not only to give us strength through this tough time but also please help heal our broken hearts both her and mine."
Prayer for Family in order to Praise the Lord
"God we praise your name. O Lord, thank you for sending your own incarnate Son in order to save us by your grace. We thank you for the opportunity to pray with one another and ask that we may be enlightened in how to best spend our time. We ask you, Lord, to protect and watch over this family, so that in the strength of your grace its members may enjoy prosperity, peace, and Love."
Powerful Prayer for Family
As we have seen above there are different beautiful and effective family prayers. Additionally, a family can also pray the rosary together. A rosary is a powerful praying tool that exists of a string with beads. You can start praying it aloud, self-reflectively, or in front of families.
Conclusion
We have discussed the benefits of prayer and presented some prayers that can help you pray for and with those close to us. Prayer brings us closer together as a family and it strengthens our bond with God. It is a powerful weapon that we should use to serve the Lord and protect our families. Dedicate yourself and your family to serving the Lord. When you serve God, you also serve your family. The family that prays together stays together. This is so true. What a blessing! God bless you.